Before reading this post, may I recommend you re-read this
one
...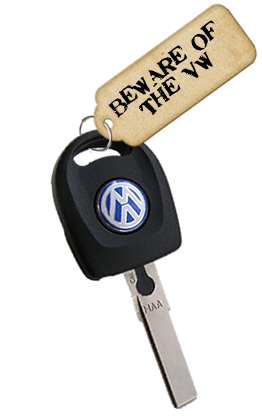 Ok, let me catch you up to speed... I don't know what it is about our cars lately but everytime I think about them I want to cry [I'm crying at everything lately, see post below] and that's why I haven't really mentioned them since the above mentioned post. For the last couple of months the Passat has been in and out of the shop, and we finally got it back last week. Did it cost a hefty penny? Yes. Does it work any better? No.

So I've been cursing the thing for a couple months now, and haven't even driven it since we got it back. Well, that was until Tuesday, when I drove it to school and guess what happened... I lost the key, yup lost, as in the VW gods are mad at you for cursing their beloved Passat and now ye shall be punished for it, because it was yer only key, and now it's gone. They made it snow that day too!

**This would be the second time I've lost the Passat key in this calendar year. Don has been pretty good about it and even made some jokes to the dealer about how he's know the drill, because I am a pro at losing things... [no comment]

So we had this plan worked up to leave work a little early tomorrow and drive to the dealership to pick up the new key we had ordered. That is until my little brother was walking to his car up on campus, and happened to be looking at a bush and noticed a key on the ground...he picked it up and walked a little further over to where my poor abandoned Passat was and it worked. What are the chances??

I don't care if the VW gods have decided to forgive me, I'm still selling the dang thing...
[Thanks Ty-Ty, you ROCK!]