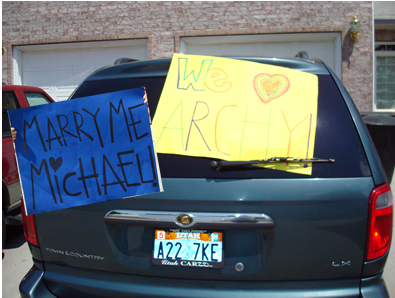 Last night I went with my sistas and Mama to the American Idol Concert.
At first I was telling people, "Oh, I'm just going for my Mother."
But seriously who I am kidding? I went to go see the idols, do some fake-flashing, and scream like Mary Murphy [All of which a not aloud at home or in public places, unless it's a teen-boppin' concert]. Lucky for me!
I screamed soo loud that the girls infront of me kept giving me dirty looks, I may or may not have proclaimed my love to Michael Johns too! But let me defend myself by saying, I have been to a fair share of concerts...and even I know that it is not worth it to spend money to sit on my beetle-end and text people the entire concert...they looked miserable, might as well have been watching in on TV.
People I did not care for...Chikezee -- Bland, Horsegirl -- BORING, Ramiele -- Minnie Mouse Wannabe, & Seyesha -- Fake Boobs + Short Skirts DO NOT = a good time for anyone...
Love, Love, Loved...Michael Johns -- Best songs ever, Brooke White -- Soo Talented...Carly Simon-esk, Jason Castro -- WOW, CarlySmithson -- Is better looking in person...Loved visiting our 'Temple', Archy -- Adorable, & David Cook -- Pretty good, Weird guitar solos and Short hair does not do him any favors.
If by chance you have made it thus far, you will be rewarded with pictures...

{If for any reason this whole post just does not make sense...I'm tired and will re-edit later}