I owe my love of creating to my mother and so as I started an
Etsy shop
past this year I was thankful to have her input throughout the process. In the first 6 months of having my shop I sold over 50 bags and did multiple giveaways, it has been such a fun adventure for 2008!
However, with the new baby and all sorts of other things going on I don't know quite what will happen to
my little shop
...I haven't decided yet, but change is a coming, of that I am sure...
SIDENOTES:
I think I may have
mentioned this before
, about the
Topsy Turvy Dolls
, and how my mom made a bunch a sold them back in the 80's. Anyways I was helping my mom clean out her cupboards the other day I came across a picture of her dolls...and thought it would be fun to compare hers to the few I made this year.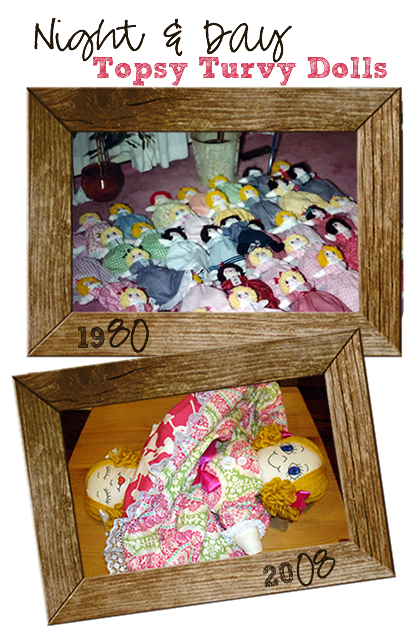 Aren't they such cute and fun dolls? My mom could whip them out like no other, I however get a little tied up with the yarn hair [once I can figure out a faster way to do it maybe I'll add some to my shop, who knows?]
But my mom always did have a way with yarn...
Speaking of, I got an e-mail and a comment asking me about the
blanket
pictured in my
last post
. My mom made each of us, her seven children, these amazing Afghans for Christmas. I have to say it's one of my favorite Christmas presents...she started making them in October and barely finished right before Christmas. Like I said before, one talented Mama!