Do you know what I find
really creepy?
Baby Widgets
...
ahhahahahahhhhhaaaahhhh!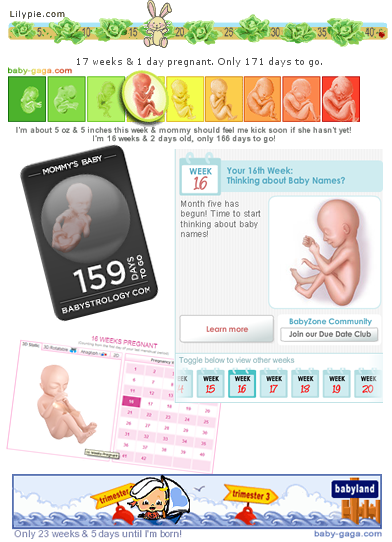 I was tempted at the beginning of my pregnancy to post one on my blog, you know because I want to
fit in and all
, but then I realized I am in no way shape or form a fan of
Baby Widgets
for the following reasons:
-They are in no way accurate, as I put the same info into all of these and they tell me different things.
-It is just a constant reminder of how much longer I have until I meet my baby...if only I could figure out if it's really only 159 days, 166 days
or 171 days? Who knows.
-Did you know there is a
baby widget for breastfeeding
? Enough said.
-Naked babies spinning around with umbilical cords not only make me dizzy, but the nakedness really creeps me out.
If you think I'm stupid, you probably already have a baby widget on your blog, or if you don't and would like to have one on your blog, please visit
HERE
,
HERE
, HERE, or HERE.
Just keep in mind I may not visit your blog as often as you'd like...totally kidding thanks to Google Reader!!



[Pictures of Vegas still to come, as soon as I can get my hands on my camera cord.]