...throughout this whole weekend, can't you wait?
[And because of that I have decided to avoid blogging the rest of the week]

Well if you don't enjoy Thanksgiving as much as I do, let me give you a few things to get excited about for instance A POLL, A GIVEAWAY, SHOPPING, and MY BIRTHDAY...
Fun #1 [mainly for MY enjoyment]:
Last year I did a
poll
on my blog to see who was out there and thought it might be fun to check my stats and do it again...so for all you
Google Readers
out there take a minute to visit
my blog
and tell me who you are!
Fun #2 [mostly for YOUR enjoyment]:
I recently made my
200th post
and was planning on doing a GIVEAWAY or something of a fun-like nature...so LEAVE ME A COMMENT now and I will mail you a secret surprise that may or may not encompass the following: candy, something handmade by me, and a signed photo of me.
Fun #3 [mostly for CRAZY PEOPLE enjoyment]:
Enjoy
Black Friday
...I know I will! If you aren't into department store shopping and prefer online shopping check out the blog
m.writes
on Friday for a list of some fun online artisians offering goodies not to be missed! [
I will be participating
, thanks Marta, it's such a fabulous idea!]
Fun #4 [enjoyment for ALL]:
It's my
shared-birthday
this weekend [Happy Birthday T-Rizz!]Wahoo...also another great reason to do the GIVEAWAY...and all I will ask from you for my birthday is that you...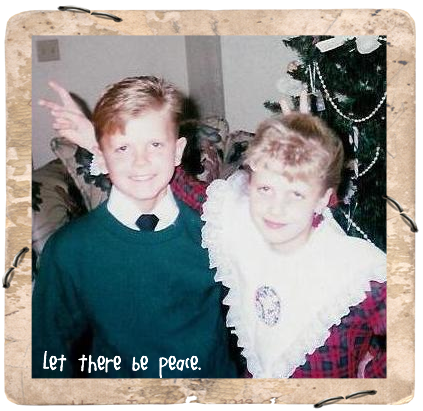 [Seriously I have a lot of pictures of me from younger times with
sweet bangs
and peace signs,
that may have to be another post all in itself...]